Pharmafit Healthcare Innovation PHI is your partner in getting Drug Product Licenses approved and Product Dossiers maintained in Europe. In doing so PHI works seamlessly with you and your team by providing you cost effective, flexible and performance-oriented solutions to Drug Regulatory Affairs.
PHI was established in 2006 by Dr. Ria Mueller-Sarwin. She is Pharmacist graduated from Johannes Gutenberg-University Mainz, Germany. She received her PhD from Ludwig-Maximilian University in Munich, Germany.
Dr. Mueller-Sarwin started her career in both public and hospital pharmacies in Germany and then she moved on to Pharmaceutical Industry in 1990 in Germany and the Netherlands. Her key expertise area includes Regulatory Affairs CMC (Chemistry, Manufacturing and Controls) which she has put in practice at several multinational Pharmaceutical companies and at her own consultancy firm PHI for over 25 years now. Further description on her qualification and working experiences is available in the attached curriculum vitae.
WHAT CAN YOU EXPECT FROM US
Up to date expertise of current legislation,  regulatory guidelines and the CMC process is provided.
A national and international network of renowned experts from the fields of human medicinal products are at your disposal.
A high record of success in turning Initial application into Marketing Authorisations.
We provide you a regulatory hub: everything comes together at one place.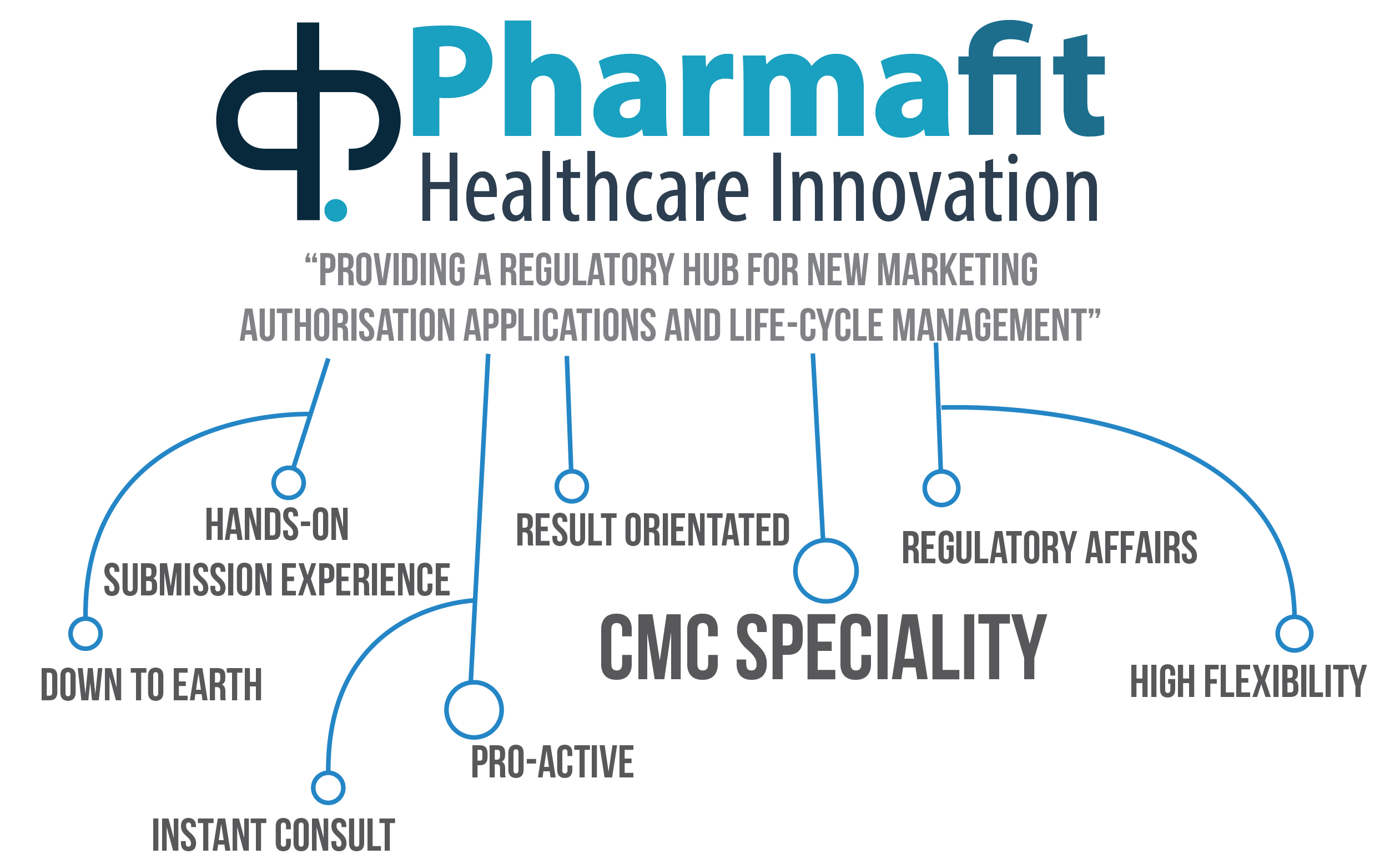 Are you looking for professional support for your drug products, which fulfills your needs when it comes to approval within your timeline of the market entry?
Pharmafit Healthcare Innovation is there for you: from the moment you have a product idea all the way to the "final" Marketing Authorisation approval procedure, we provide you with rapid and customized operational support in all procedural phases of Medicinal Product authorisation in Europe  especially in Germany, Netherlands, Belgium and Luxemburg.
We provide you with extensive years of industrial experience and a professional, diligent, team-oriented performance.
We focus on 1 major working area, which is CMC.
Your needs are of our highest priority. Innovation and proactive working style are our characteristics. We put your ideas into operation.
PHI meets deadlines: Realisation of deadlines and timelines especially in your tight project time table and highly focused needs are our strength.
We ensure instant submission packages to Health Authorities not to delay your product's market entry. Delivery of highly flexible service in Drug Regulatory Affairs is our key to success.
PHI matchs every single need in Drug Regulatory Affairs: Each project is important to us regardless of size and timescale at any time, any place.